30 June 2010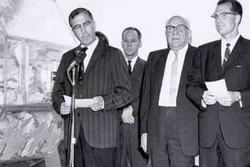 With some great relief Mayor Hollis today announced that City Officials has been able to carry out the Lotter required to distribute certain 'Shady Funds' back to the Detective community.
"I have great pleasure in announcing that reknowned Villain Hunter Detective Sal Iva has won the grand sum of $309,401." A still somewhat green Hollis stated for the gathered Press. "We hope that this fine upstanding fellow of the Community will use these funds wisely and with better intent than the original holder of said funds."
Whilst the lucky recipient was unavailable for comment, our intrepid reporter spotted a certain gentleman watching proceedings from the rear of the Press throng, and gamely sought comment.
"I aint got nuttin' to say, exceptin' I have no doubts Mr Sal Iva is gonna get exactly what is comin' to him... in spades." Our reporter, wisely, decided to push the issue no further.
We at the City News congratulate the 'lucky' Detective, and suggest that under the circumstances the funds might best be put to use purchasing a ticket abroad and going on a very, very. long holiday!
Read more about the lead up to the Lottery below...
---
T-MEN AFTER SHADY?
City Hall refused today to confirm or deny rumors that the Treasury Department is investigating a certain Shady Character. However, an aide who asked not to be named has stated that there may be one or more charges of tax evasion in the works.
SHADY EVADES CHARGES OF EVASION
City Hall today announced that the Treasury Department has dropped their investigation of a well-known Shady Character, citing lack of evidence of any income at all. An anonymous source claims that certain records normally kept within the City Hall office of Mayor Hollis have gone missing, although the Mayor claims those records never existed.
MAYOR MUTE ON SHADY DEAL
Mayor Hollis has stated he has 'No Comment' regarding allegations of kickbacks and bribes in connection with the recent thwarting of charges of tax evasion against a certain Shady Character. However, there are new rumors circulating that the investigating T-Men agreed to close the case if a certain amount of funds were distributed back to the public.
HOLLIS ANNOUNCES SHADY LOTTERY
The Mayor has announced that Shady funds slotted to be returned to the public will be given to a randomly selected Detective, since the licensed Private Detectives that deal with the Shady Character are the ones who have paid him the most money. Watch here for breaking news regarding the identity of the lucky detective.
HOLLIS SICK OF LOTTERY DELAYS
The Mayor today expressed his dismay to a gathered throng of media representatives. "We assure the public we are making every effort to conduct the Lottery to dispense certain 'shady funds' as expediently as possible. However, due to a large number of City Officials being incapacitated by a recent spate of food poisoning, linked to the City Hall cafeteria, we have been unable to proceed." When asked if he thought there was anything nefarious taking place, the Mayor smiled nervously, excused himself, and headed for the bathroom.
WINNER OF SHADY LOTTERY ANNOUNCED
It's official! Shady has had to give up $309,401 for public lottery, and Detective Sal Iva will profit from Shady's loss. Congratulations, Detective Sal Iva!