May, 2008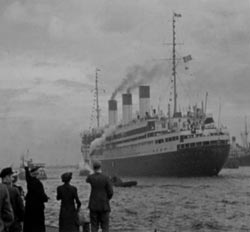 International financiers and shipping magnates Patankar & Santanelli have proclaimed a new age in luxury travel with the coming launch of their flagship ocean liner, the USS Sleuthetania! The Sleuthetania will offer unmatched comfort and opulence for her lucky passengers as she steams the worlds oceans and visits many ports of call.
Already, the finishing touches are being applied to her gilded staterooms and magnificent dining salon. She will be christened and launched on her maiden voyage soon!
The USS Sleuthetania is an upcoming expansion for Sleuth Noir. Detectives will be able to purchase a ticket and travel for three day trips filled with new characters to meet and secrets to unravel.
The Sleuthetania will set out on her maiden voyage from New York on Saturday, June 14th!